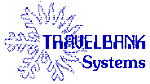 E-Mail US
---
FAQ: About TravelBank Systems
---



INFORMATION PLEASE


Welcome to TravelBank Systems
Our address is:
TravelBank Systems:
TravelBank Systems
E-MAIL:


TravelBank Systems is a Computer Information Utility that provides users with up to date YEAR-ROUND Travel and Recreation information through their computer, 24 hours a day, seven days a week. This information can be accessed from wherever acomputer can be connected to a phone line through a modem. TravelBank Systems is menu driven.

The TravelBank also contains statistical information, and news file stories, covering the Tourism and Computer industries, that is made available to Accredited Working members of the Press, North American Ski Journalists Assocation, and The Computer Press Association.



---
MESSAGE BASES:
There are a message bases that are FREE and OPEN to the PUBLIC for the exchanging of information and ideas, (upon verification). These are as follows:

"SHARE-A-RIDE" - Car pooling, Bus trips, etc.
"SWAP-N' SHOP" - Sports Equipment.
"FOTO-STOP" - Phortography How-to.
"WARMING HUT" - Tell or find out about the best areas, runs, etc...
"SKI ULTIMA" - Help us design the ski area of the future.
"PRIVATE MAIL" - Leave Private mail for other users.
"BUREAU OF CONSUMER AFFAIRS" - Consumer reports and tips.
"SPORT MEDICINE & INSTRUCTORS CORNER" - Learn to ski Q & A's.

** For a complete listing, see the TravelBank Directory **
---
ADVERTISING POLICY AND RATES:
TravelBank Systems permits paid advertising in the following areas:

Individual Ski Area Profiles
Resort and Regional Profiles
Lodging - Year-Round, * Private as well as Public. *
Dining & Entertainment
Pricefighter(s) (coupons, discounts, packages)
YEAR-ROUND Events Calendar
Nordic Haus
Ground Transportation - Car Rental, Limo's, 4-WD's
Air Transportation
Recreational Sports Equipment
Rental Equipment
Computer Supplies
Small Office, Home Office, Mobile Office, Virtual Office Computing
Year-Round Activities
Attractions

---
MAILING LISTS:
We occasionally make our mailing list available to carefully selected companies whose products may be of intrest to our users. If you are a registered user and do not wish to receive mailings from these companies, please leave us a note in E-Mail or when you log off.
---
LEAVING INFORMATION:
If you would like to leave information for the TravelBank, such as for the Year-Round events calendar, you can do so by leaving a message for the SYSOP (System Operator) in the message menu area.
---
STATEMENT OF ACCURACY:
TravelBank Systems strives to continue to maintain a high level of accuracy in its information, but due to the volume of information this is not always possible, we regret any inconvenience.
The information contained in this information system is based upon represent- -ations mde by the individual organizations and companies which are listed. TravelBank Systems and ColoRadio Communications takes no responsibility for its accuracy. It is compiled as a service, in hopes that your travel and recreation experience will be made more pleasurable.
All rights are reserved. No portion may be duplicated, or electronicly transmitted, in whole or part without the expressed written consent of TravelBank Systems, TravelBank Colorado, and/or ColoRadio Communications Group.
---
DISCLAIMER:
The opinions and views that are expressed on TravelBank Systems are not necessarily those of the staff and management. TravelBank Systems welcomes stories and information contributions. We will consider, but assume no responsibility for unsolicited proposals, and manuscripts; all such mailed in material must be accompanied by a self-addressed, mail with sufficiant postage to cover the cost or it will not be returned.
---
STATEMENT OF LIABILITY:
Many of the activities covered on TravelBank Systems, Computer Information Utility, are action sports carrying significant risk of personal injury or death. TravelBank Systems, ColoRadio Communications Group, including its owners, writers, system operators and other staff and management, does not recommend that anyone participate in these sports unless they are experts, seek qualified professional instruction or guidence, are knowledgeable about the risks and are willing to personally assume all responsibility associated with those risks.
---
*-www.travelbank Systems-*
Reproduced, with permission, from TravelBank Systems.
Computer Information Utility, Travel & Recreation Information.